Extra Features
On this page you will find some extra components that can be added to any of our tours. These range from floorplan maps to picture-in-picture video and will enhance the functionality of our standard tours.
Floorplan navigation
Floorplan navigation is a great way of allowing the user to know exactly where they are within a premises. It gives the user more perspective on their location. The floorplan image can be hidden so as not to restrict the view of room / area.
---
Video in Video
For extra impact, any screens mounted on walls of your premises can have video playing within them. The video clip can be any footage of your choice. See the television screen on the wall of the 'bedroom' in this example - it's also reflected in wardrobe mirror!
Video in Video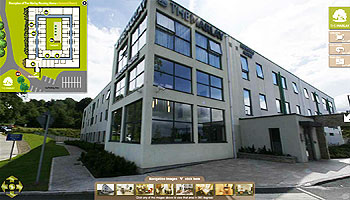 ---
Pop-open images
Pop-open images or information boxes are a good way of highlighting points of interest. In this example on the opening exterior view, if you pan around you should see a camera icon which when clicked opens up a zoomed-in image.
---
Thumbnail navigation
Another good visual aid is thumbnail image navigation. It gives the user a glimpse of each area before they click to open. There are many different ways these can be set up, so there are plenty of options.